Okay, it seems I haven't posted in a while. That's my problem…write or blog…
Seriously, I have a hot new ebook and it's totally free!
Free Guide to Self-Publishing and Book Promotion: Inside Secrets from an Author Whose Self-Published Books Sold in Thousands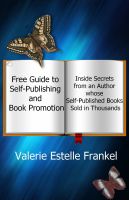 Wondering how to get published? Or how to self publish? Have an amazing book but no one's reviewing it or hearing the buzz? Now award-winning author Valerie Estelle Frankel shares all her inside tips, from conferences to Facebook, Twitter to eBay, on how to make your book a success. With this guide, you'll learn how to create a professional cover or find a cheap but brilliant cover artist. Build and distribute your ebook in every format, make bookmarks and handy cards, write and distribute your press release and get into the news. Every essential tip for new writers and experienced ones who want more exposure and sales. Complete with an appendix of successful query letters, press release, sell sheet, flyers and cards, step-by-step covers, and much more.
Now with a Bonus Essay on Creating Cover Art by Mary E. Lowd, author of Otters in Space.
Please come check it out at https://www.smashwords.com/books/view/175520.